In this article we discuss five of the best places to stand up paddle board in Northern California!
——————
While Southern California evokes images of palm trees, long sandy beaches, woody station wagons, and endless summer surf breaks, you might be surprised that Northern California also has a mondo board culture. From the legendary Maverick's big wave to gentle rollers at Cowell's in Santa Cruz, and Pacifica, the NorCal stoke vibe is legit. For stand-up paddle boarders, beyond the Pacific, Northern California is a paradise of opportunity. With a bounty of lakes, rivers, and the San Francisco Bay itself to explore.
Here at Atoll Inflatable Stand Up Paddle Boards, we desire to leave no potential paddling spots unturned. Pack up your iSUP and join us at these five epic locations to discover Northern California.
1. San Francisco
Stand Up Paddle Boarding in San Francisco
The iconic city by the Bay is surprisingly challenging to explore on the Bay. The famed currents that drain daily under the Golden Gate Bridge will flush anyone but the strongest paddlers. (The Battle of the Bay SUP race is a great test of your mettle).
Aquatic Park Cove is an idyllic spot to catch views of the Golden Gate, Alcatraz, Fisherman's Wharf, and the Marin Headlands. The cove itself is protected, though keep an eye out for swimmers training for triathlons. You can launch from the long narrow beach and paddle safely around Hyde Street Pier and over to Pier 45. Parking is a little chaotic. But once you find your spot, you'll be thankful for having a lightweight Atoll to navigate the crowds.
Crane Cove Park is the newest addition to the park system in San Francisco. And it offers industrial vibes from a well-protected inlet in the Dogpatch Neighborhood. The site was the inspiration for Dogpatch Paddle Club, which now boasts over 600 members (locals only). And publishes a map of the region with routes, hazards, and points of interest. Hug the coastline and paddle past Chase Center over to Pier 52. If the water is flat, you might venture out to take a gander at the massive Cape Horn and Cape Hudson warships at the end of Pier 50.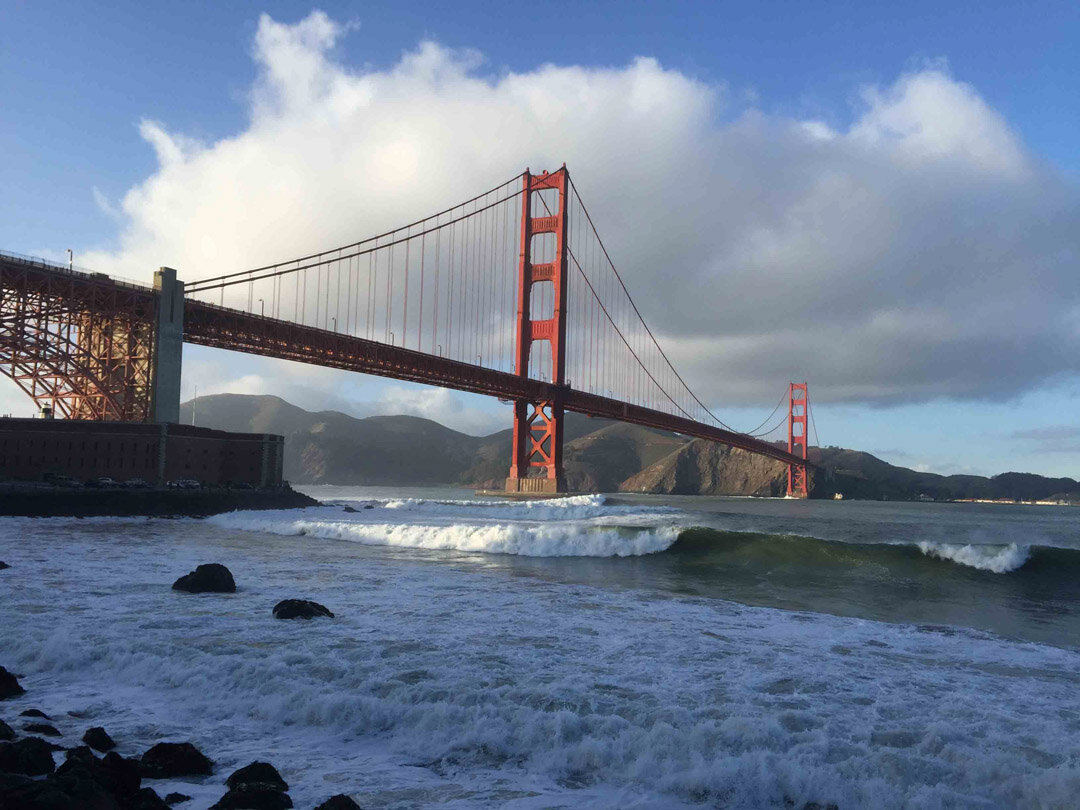 2. Lake Tahoe
SUP Boarding in Lake Tahoe
Tahoe is a paddler's dream. It's the largest alpine lake in North America, and straddles the border between California and Nevada. There are ample spots to put in with rocky shores, forested bays, and glassy shorelines. Dogpatch paddle includes a few routes on their map to help you navigate the lake (zoom out and back for Tahoe).
King's Beach is the easiest point to put in on the lake. There's a large parking lot ($5 day fee) and a wide beach. Head east to start your paddle. While much of it is fronted by lake homes, once you near Speedboat beach you're treated with one of the prettiest formations of rocks. As you turn around Stateline point you will see massive rocks submerged in the crystal-clear waters.
While technically in Nevada, Sand Harbor is our favorite paddle on the lake. There is a mix of blue / green water, shallow rocks, isolated beaches, rocky points and protected coves. Simply head south from the parking lot and plan to spend 2-3 hours roundtrip with lunch somewhere at or beyond Secret Cove
Emerald Bay is an epic, long, Tahoe-classic paddle. While not as dazzling with the under-sea rock formations, this is a dense-forest, big mountain alpine paddle. Start at Baldwin Beach Wind could be stronger on this stretch which will whip up whitecaps. Once you enter the bay, it's calmer, but be mindful of watercraft and wakes. Plan 3+ hours with lunch in the bay (at Vikingsholm or Fannette Island).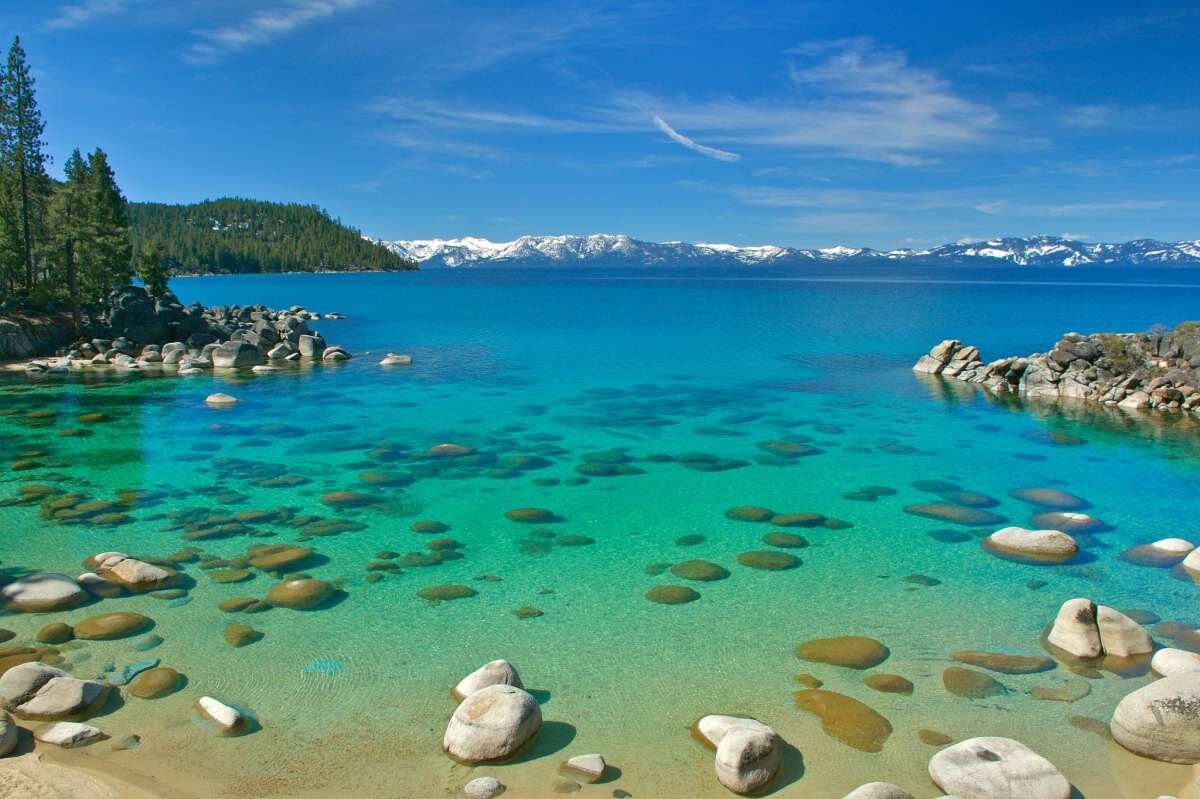 3. Mount Shasta
Mount Shasta Paddle Boarding
We're not leaving the mountains just yet with our next choice. And curiously, this spot is often overlooked as a potential place to paddle. We cannot understand why either because the views are gorgeous.
Mountain Shasta sits in the Cascade Mountain Range in northern California and is home to explorers, hikers, bikers, spiritual pilgrimages, and now, paddlers too.
You might have noticed something unusual with our list of activities found on the mountain. That's right, there are spiritual pilgrimages to Mount Shasta every year. Why? Well, let's let Ashalyn, founder of Shasta Vortex Adventures explain it, "The Native Americans have always felt that the mountain was the sacred center of the universe. They even have stories that talk about it being the home of the creator."
Sound too trippy for you? That's okay! If you don't wish to partake in any spiritual practices, you will still find a deep connection with the beauty of the natural world that encompasses you once you enter.
And to be able to SUP here would only add to the effect. We recommend a sojourn up to Lake Siskiyou and a possible stay at the campground there. You can find more details HERE.
Who knows, maybe you'll leave the mountain with a whole new perspective.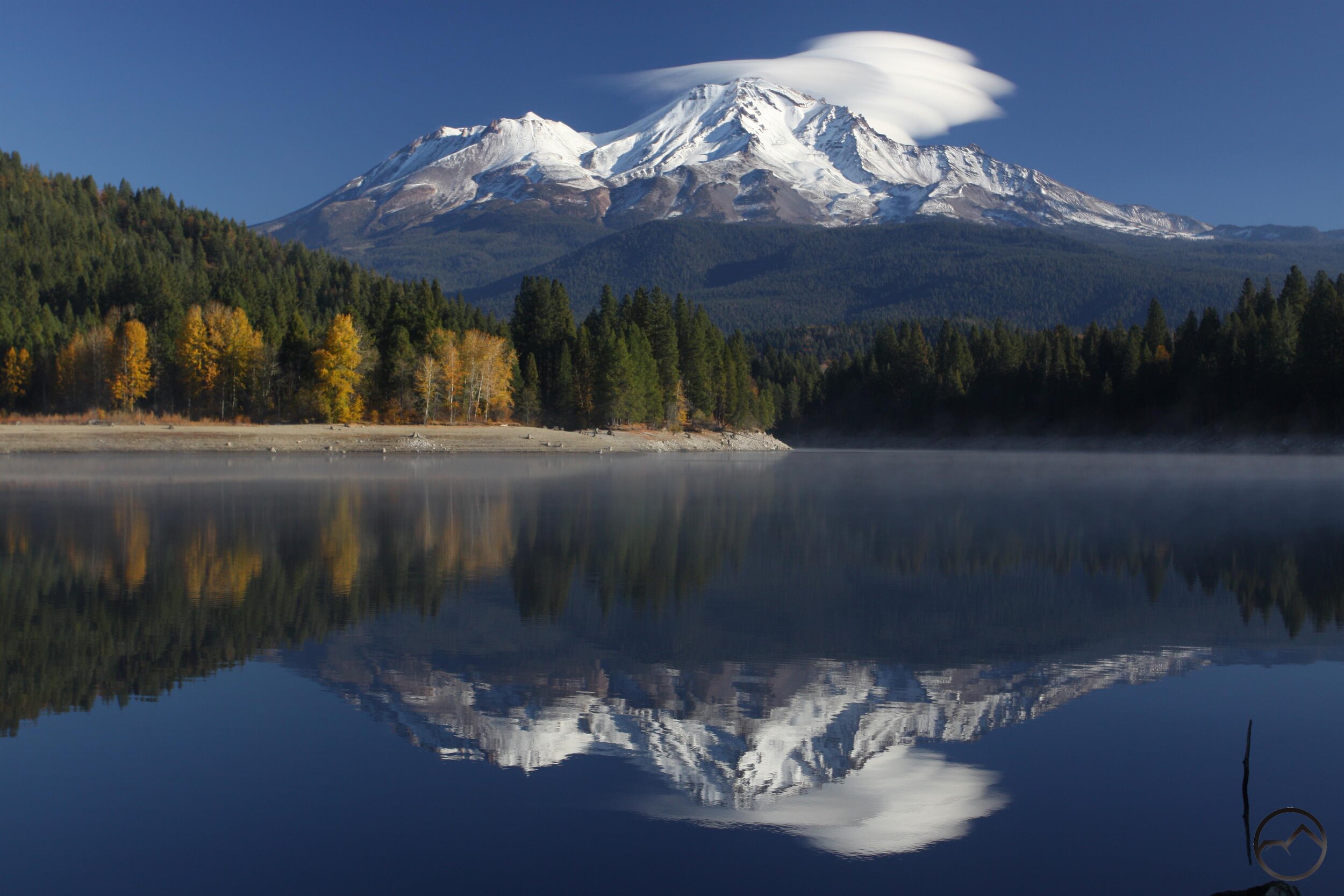 4. Folsom Lake
Folsom Lake Paddle Boarding
We're now moving outside of the mountain ranges and into the flat farmlands surrounding Sacramento.
And sitting in this vast open land is a small lake called Folsom. A perfect spot for a relaxing flat-water paddle.
Besides SUP, visitors can partake in such activities as biking, boating, fishing, hiking, horseback riding, wildlife view, and picnicking. Plus, the bright outdoors is a fantastic setting for a full day of paddling on the calm waters, heading back to shore for a quick bite to eat and relaxing, before heading back out for a leisurely paddle or to push yourself in a workout.
Consider Folsom Lake the most accessible spot on our list in terms of travel and in SUP skills. The elements are calm, the beaches are empty, relatively speaking compared to our other locations, and the sun is almost always shining.
And if you want to stay the night to start your SUP fun early in the morning, we suggest booking your stay at Beals Point Campground. Consider this the relaxing option on the list.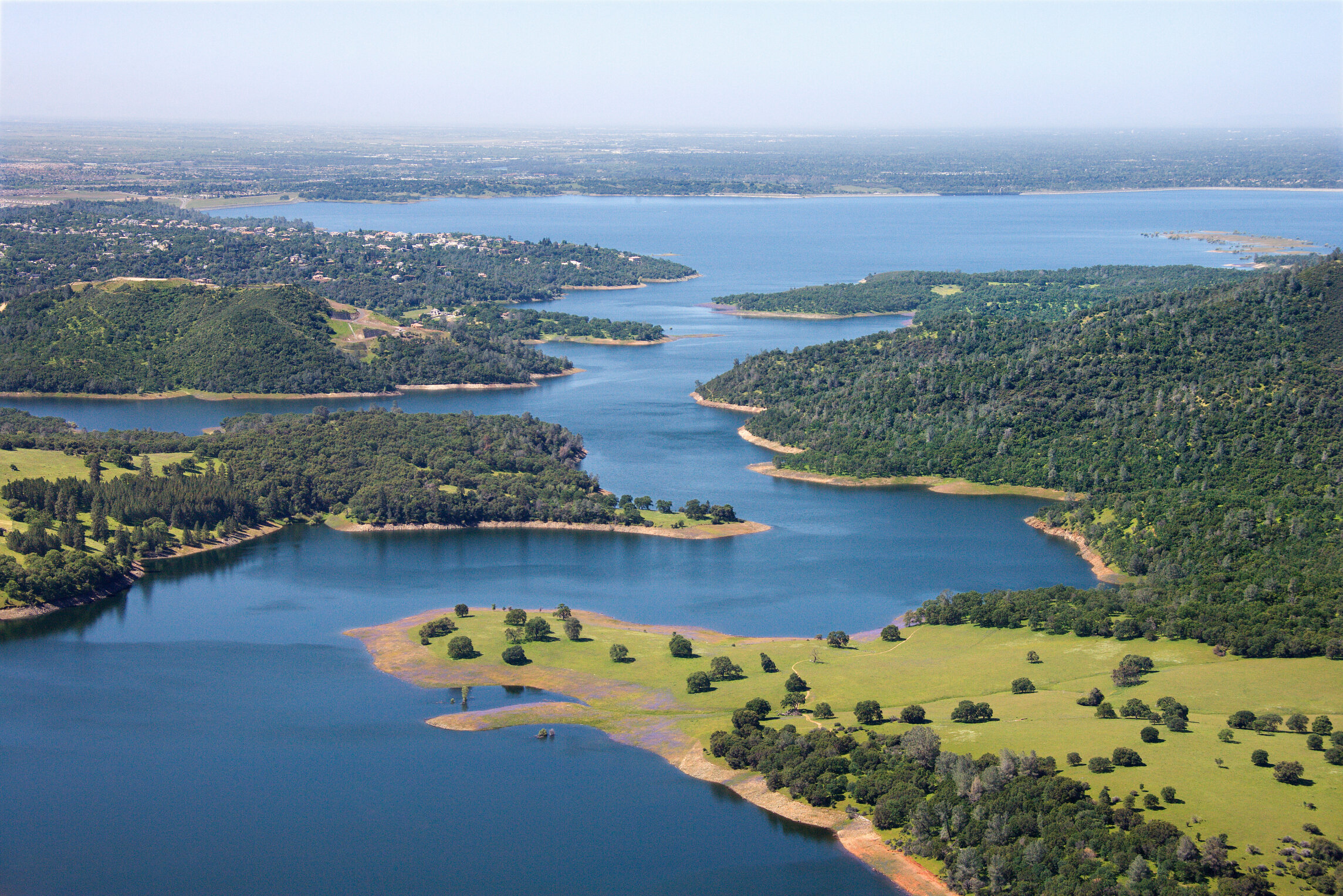 5. Sacramento River
Sacramento River Stand Up Paddle Boarding
Our last spot happens to be our only river location on the list. But what a river it happens to be.
The Sacramento River once called the "Nile of the West" stretches around 384 miles from its headwaters near Mount Shasta to the Sacramento-San Joaquin Delta.
Don't worry! We don't expect you to paddle 384 miles.
Instead, we will be focusing on the stretch from Redding to Chico.
Now, if you want to paddle this entire stretch, then we say go for it! It may take you a few days though. Prepare to bring ample supplies, food, water, and sleeping bags. Luckily, you should be able to use your Atoll inflatable as a bed at night.
But for those with a little leisure in mind, we suggest a paddle to the famous Sundial Bridge in the Redding area.
This famous bridge is a fantastic spot to gaze over the water, take in the sights, and is a neat place to paddle underneath on the flowing waters of the Sacramento River.
One word of caution, much like any river, there is a fairly strong current. Make sure you start upstream and have a projected landing point. If you have to paddle back against the current, it can become a little difficult.
But with this taken into account, a fun time is to be had shooting down the Sacramento and to take in the sights.
Conclusion
There are so many wonderful places hidden in the world to explore on a stand up paddle board. And while we have hopefully made you aware of these five in Northern California, we always encourage our paddling family to do their own exploration.
Don't let the confines of the familiar become just that- a confine.
Get out there and explore!
And if you need the perfect vehicle to fuel your SUP adventures, then our lineup of Atoll boards is the best companion. Contact us directly if you have any questions, or need any additional information. We'll see you out there!