In this article we uncover our 5 favorite places to SUP in Florida. Use this short list to plan your next winter getaway!
———————
Sunshine and warm water. Cool beverages and close friends.
It's easy to understand why Florida is one of the most popular destinations for winter vacations and year-round beach living.
Add SUP into the mix and it's a regular paradise.
Florida though, is also a large state, with many fantastic places to visit.
It can be a bit overwhelming if you are planning your first trip.
That's why at Atoll, we like to take the stress out of travel. With this list you'll be prepared to find some of the best hidden gems in Florida. Ready to unpack your board, inflate, and explore? Let's go!
1. Amelia Island
Amelia Island is a relatively unknown spot to SUP in Florida located north of Jacksonville near Fernandina Beach.
What makes this spot so special?
Variety.
Amelia Island has rivers. An ocean sound. Ocean inlet. Tidal estuaries which can be described as marshland. Inland freshwater. Black water creeks. And even areas that look like mangroves.
The choice of what environment you'd like to paddle in is up to you. But you should base it on your skill level.
For more advanced paddlers a trip in the ocean is a must. Take advantage of other close island chains and keep an eye out for a chance to spot wild horses living in their natural habitat.
There are two great launch spots for your SUP — Sawpit Boat Ramp and Amelia Island State Park. Choosing either one will give you access to the bay and of course, the wide-open ocean.
In addition, they have a historic downtown district full of fantastic restaurants and window-shopping opportunities. It's a fun time for everyone involved.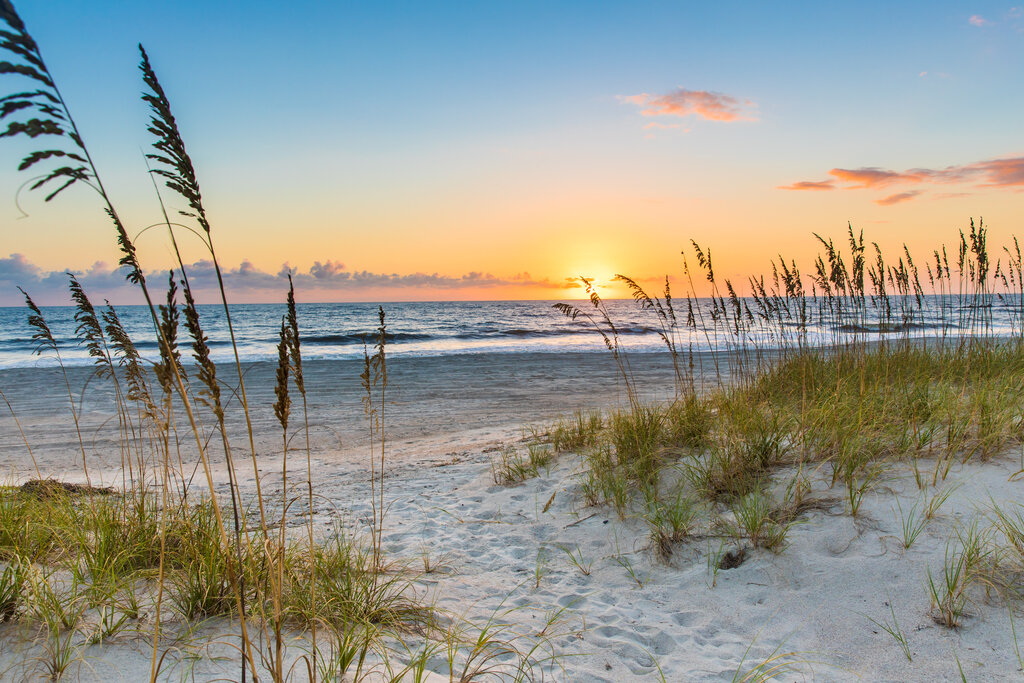 2. New Smyrna Beach
NSB lies south of the more popular Daytona Beach. Unlike Daytona, NSB is a residential area attached to a quiet town atmosphere. Along with plenty of places to grab delicious food and hang out.
But the real reason why New Smyrna lands on our list is the possibility of driving right on the beach. You'll have a front-row seat all day! And with it's packed sand, we've even seen BMW's and Toyota sedans get to pretend they're off-road vehicles for the day!
One of the best places to go is Smyrna Dunes Park. With easy access to the ocean and a short walk inland to the Ponce De Leon Inlet the choice is yours.
New Smyrna is great if you are looking for a reprieve from the crowds and want a calmer atmosphere to SUP in Florida.
One word of caution. New Smyrna is known to have a relatively high frequency of shark encounters for surfers and paddlers. Most, if not all of these encounters have not been life threatening though we do advise caution. Don't let this discourage you though because the good news is, you're on an Atoll SUP!
Stand tall and proud on your board and maybe you'll get a good glimpse of the ocean life underneath your feet!
Directions to New Smyrna Beach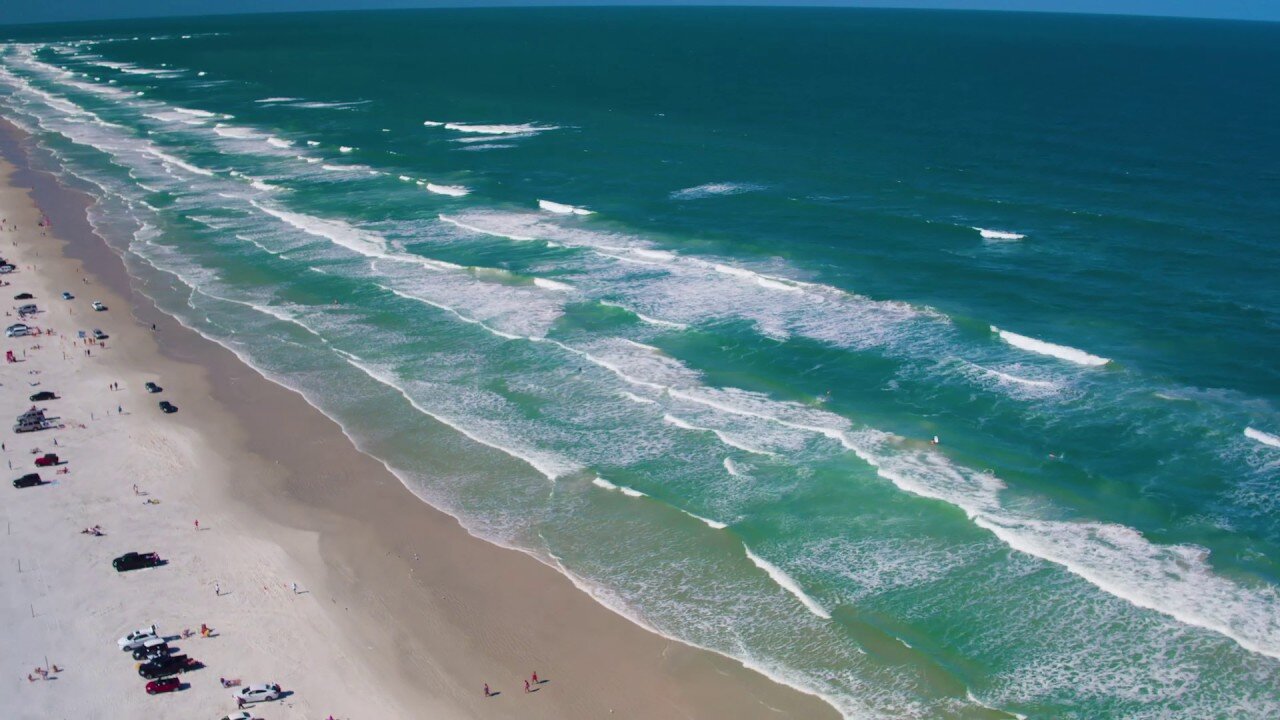 3. Miami Beach
Speaking of crowds and the opposite of calm…
Our next spot is Miami Beach.
You go to Miami Beach for the electricity. The vibrant city, mix of cultures, and beautiful Atlantic beaches are a sensory delight for any visitor.
If it gets to be too much for you though, grab your Atoll board and head out for an ocean paddle. The ocean in this location is relatively calm most of the year and makes for an easy paddle out past the breakers.
The best place to drop into the water is right from the beach. Pump up your board and head straight out.
You can catch a perfect view of the iconic city skyline from your board as you make your way north or south.
Or you can go inland and drop in at the famous Bal Harbor. Paddling through there, you'll be able to spot some amazing yachts anchored up for show.
Some additional attractions (there are a few great ones) include the Miami Beach Boardwalk, the Art Deco Historic District, and the famous Lincoln Road full of shops, restaurants, cafes, nightlife, and more! This is one spot to SUP in Florida you have to experience.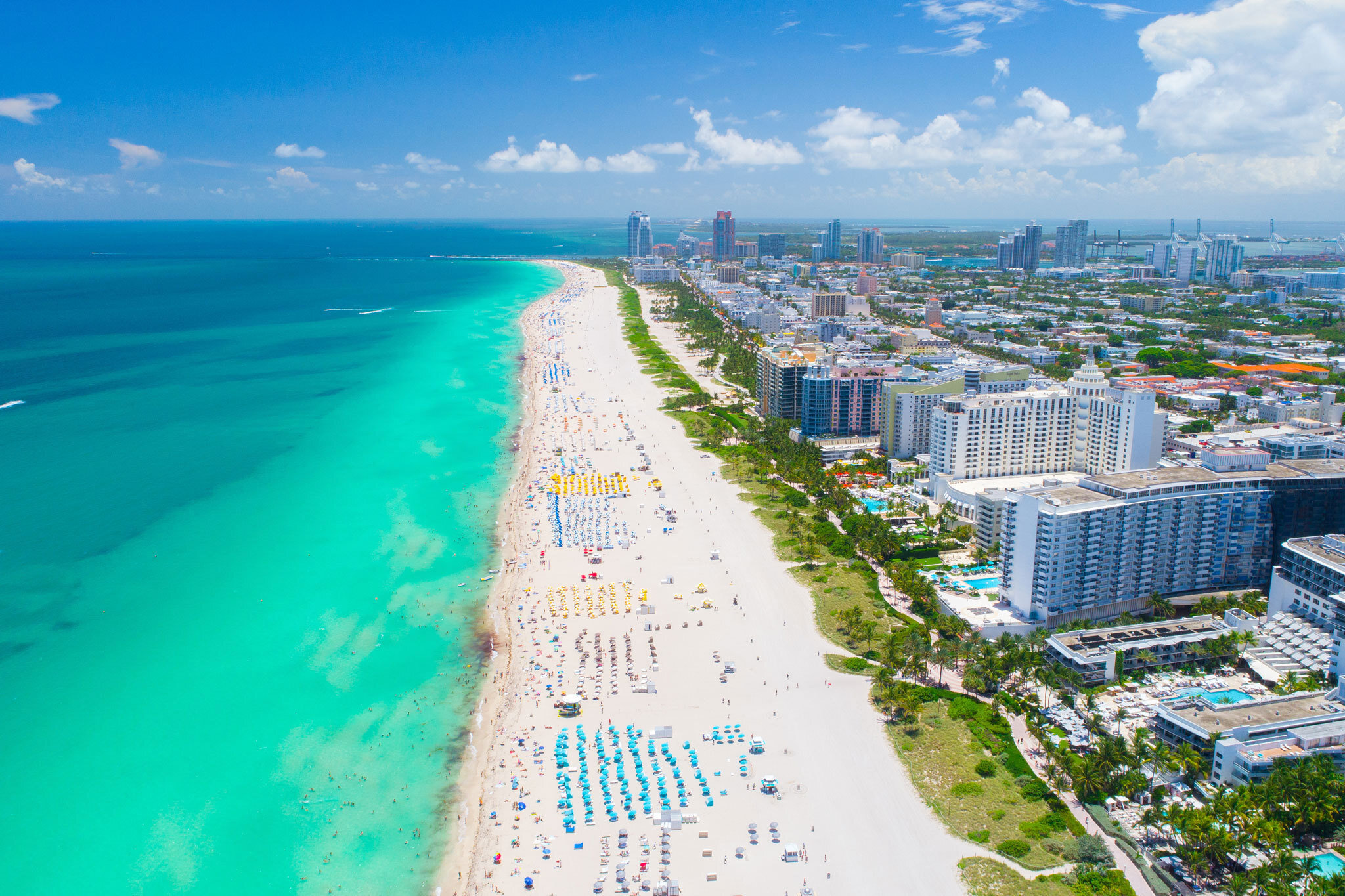 4. Destin
If you're looking for one of the most beautiful spots to SUP in Florida, then Destin is your destination. Get it? DESTIN-ation. Come on. It's clever.
Known for its luxurious white-sand beaches and emerald hue waters, Destin sits on the northwest corner of Florida on the Gulf side.
And being on the Gulf side means you can expect calm waters for much of the year. Getting in and out of the ocean is easy as paddling flatwater, and with its natural enhanced water clarity, the chances of seeing the abundant wildlife in its natural habitat multiply.
We highly recommend a visit to the Crystal Sand Beach to see the beautiful shoreline. In addition to SUP, you can also head out on a dolphin cruise, charter a fishing boat, or head to the Village of Baytowne Wharf where you will find plenty of restaurants lining the water to grab a meal and take in the view.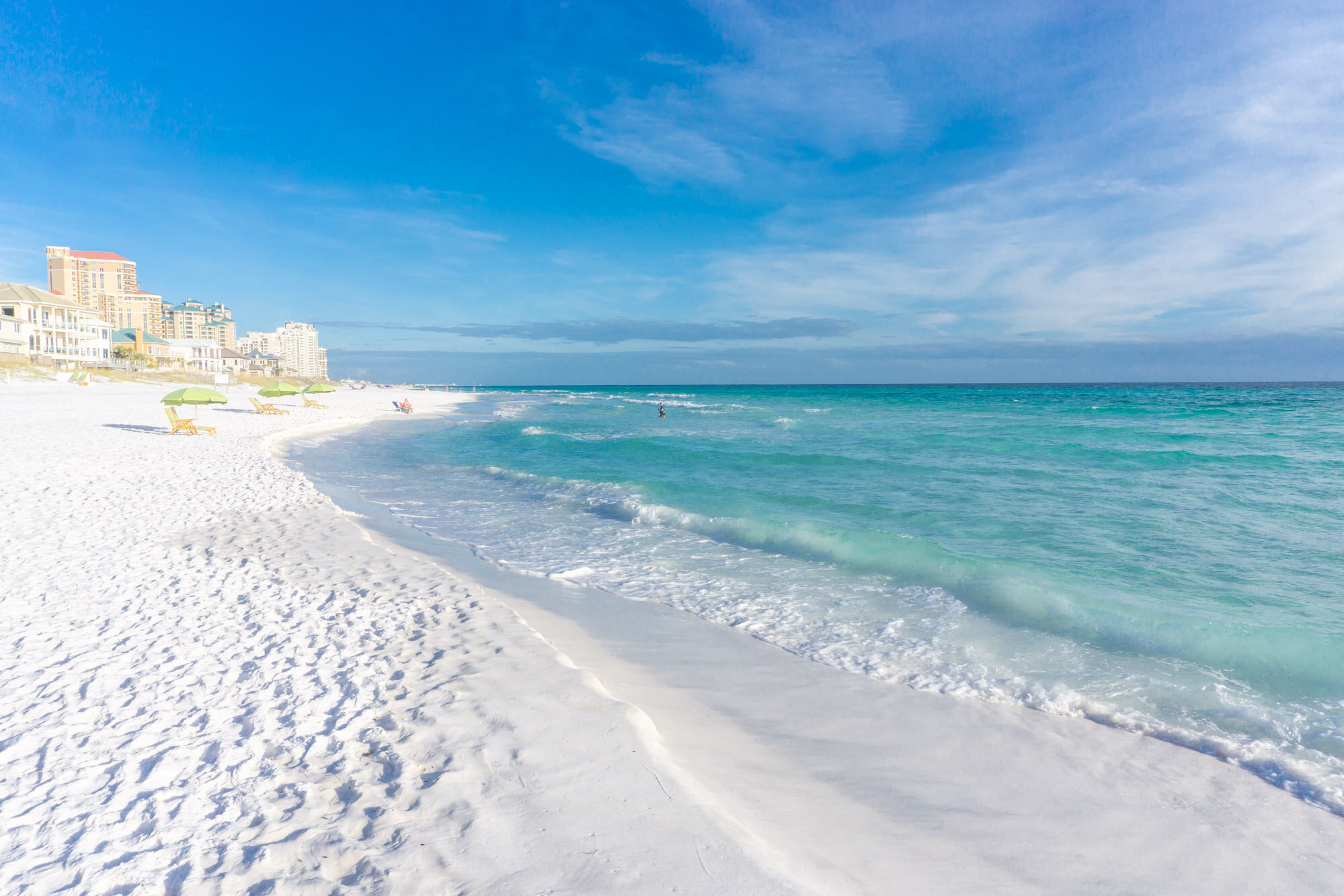 5. Key West
Our last spot also happens to be the farthest south, landing at the famous Key West.
Obviously, if you've heard anything about the Florida Keys, you know they are great for watersports. Their mangroves are full of manatees and dolphins swimming under crystal-clear waters with unlimited drop-in spots for paddle boarders and kayakers.
Some of our favorite launch points include Smathers Beach, Fort Zachary Taylor, Higgs Beach, and Simonton Street Beach.
If you visit Key West you will not run out of the places to paddle.
In addition, Key West is known for being a bit of a party town. There is a reason why Hemingway purchased a house there after all.
Which now couples as a museum and one you can visit as part of a tour! And we highly recommend that you do.
We also recommend a walk down Mallory Square after the sun sets for the best restaurants in town, live music, and other crazy Key West Shenanigans.
Another great place to head is Duval Street where you will find other fantastic restaurants and local Key West flair.
This old shanty town is really one of the most unique places in the United States and one every person should experience.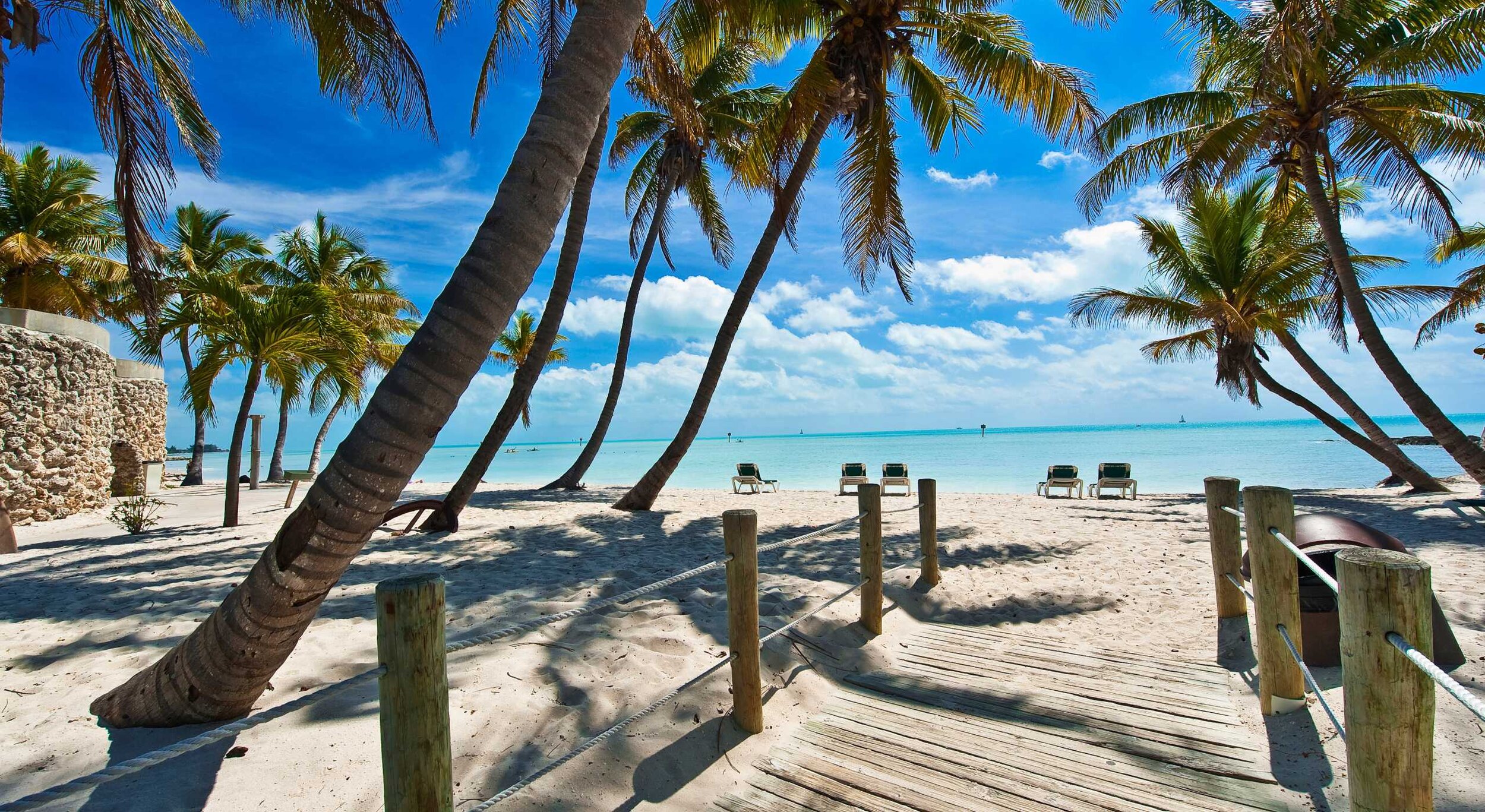 Conclusion
Florida is a big state with plenty of fantastic places to explore on a SUP. Even with all the choices though, there remain a few constants. It's going to be warm, sunny, and the beaches are going to be beautiful, and the water emerald blue.
Those are reasons enough to book your next trip.
If you happen to be looking at one of these five locations, you cannot go wrong. We just hope you took a little inspiration from us to get you going.
And if you need the perfect vehicle to fuel your SUP adventures, then our lineup of Atoll boards is the best companion. Contact us directly if you have any questions, or need any additional information. We'll see you out there!