In this article we uncover our favorite places to SUP in Arizona. Use this list to plan your next trip to Southwest of the United States!
——————
To visitors of the United States Southwest, the landscape found there has a mystical aura to it. It has something to do with the heat. The abundant cacti. And the red rocky sand that flows over jutting mountains and bottomless valleys.
Over the years, Arizona has become a top destination for hikers, mountain bikers, and campers.
The wide-open landscape is perfect for these activities.
But hidden along the mountainous landscapes are bodies of water waiting to be explored on a SUP.
From rivers to lakes, the beauty seen when hiking along the mountainous ranges is amplified while standing atop your Atoll iSUP.
And while we wish we could cover every spot to paddle in this glorious state, we will instead point you to our top five favorite locations to inspire you to get out there and explore.
Let's begin!
1. Lake Powell
Lake Powel is known for its lively spring break celebrations and jet skiing fun. But it's also the perfect spot for your iSUP.
Why?
The views. The mixture of white and red on the surrounding rocks make for a beautiful landscape to explore.
And the calm water.
Lake Powell is flat-water which means it is easy for beginners to head onto the lake with minimal problems.
We highly recommend staying at Lone Rock State Park for the duration of your visit. It is an accessible spot for RV's, campers, vanlifers, and everything in between! Just head to the link and make your reservation today!
Bonus! In case you missed it, the Atoll crew went on a road trip to Lake Powell. You can read about our adventures HERE!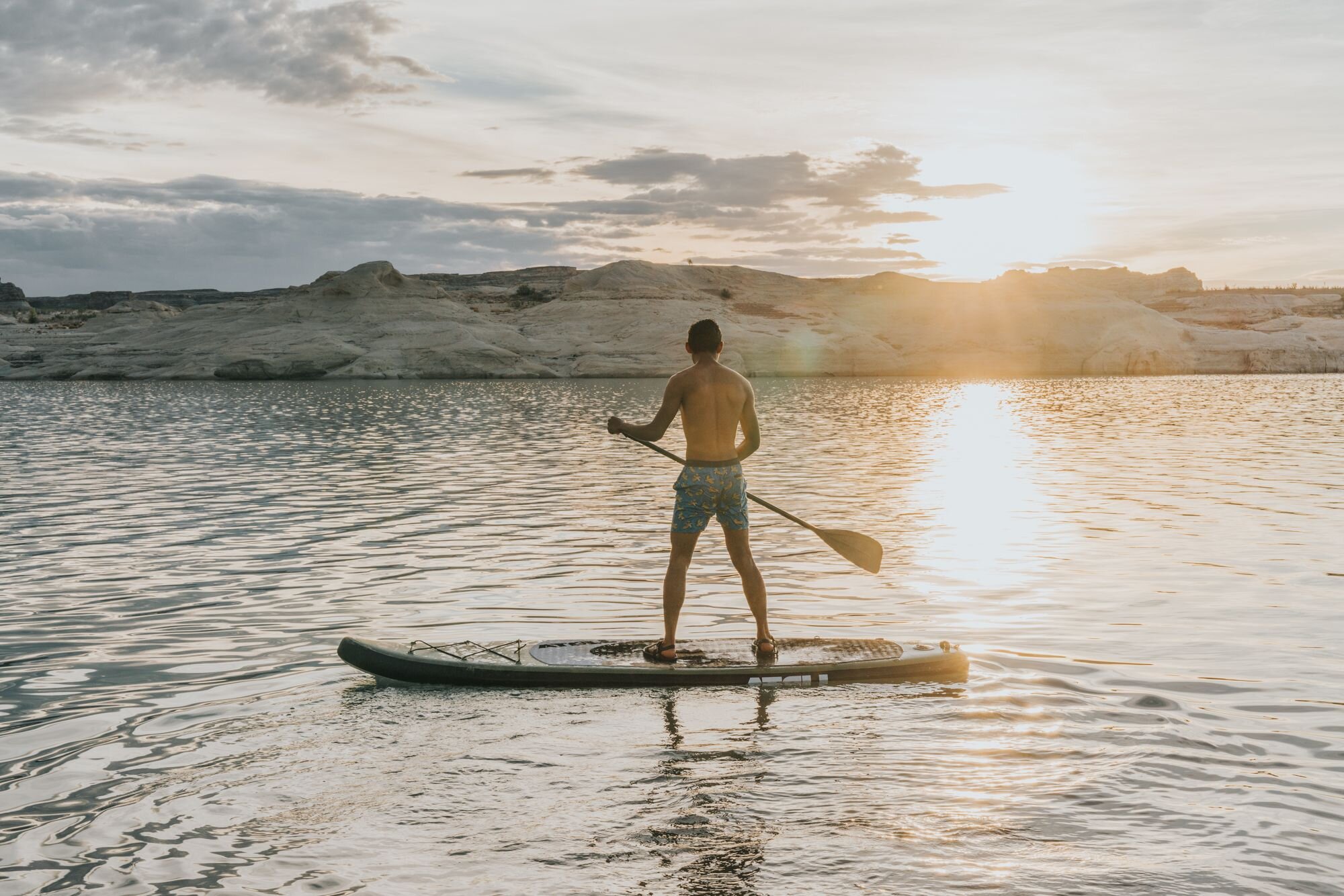 2. Lake Havasu
I believe we may have mentioned how Lake Powell was a spring breaker's paradise. Well, for those who are in the know, you haven't seen anything yet until you visit Lake Havasu.
Located on the western border of Arizona, Lake Havasu is a favorite spot for SUP in Arizona for people both living in California and Arizona. And it's not difficult to see why.
Every year, hundreds of people make their way to its shores to participate in the vibrant boat life where parties are held. Drinking of adult beverages are enjoyed. And a great time is had all around!
For the paddling fanatic, don't be intimidated by the boat traffic. Most people are there to have a relaxing time on the water and are cognizant of your presence.
We highly recommend a trip underneath the historic London Bridge for an interesting time on the water. A historical fact to note- the bridge was originally built in 1830 and crossed the River Thames in London. Over a hundred years later, the bridge was deconstructed and transported piece by piece to Lake Havasu City to be built again.
See a piece of history and enjoy time on the lake- all in a day's fun at Lake Havasu!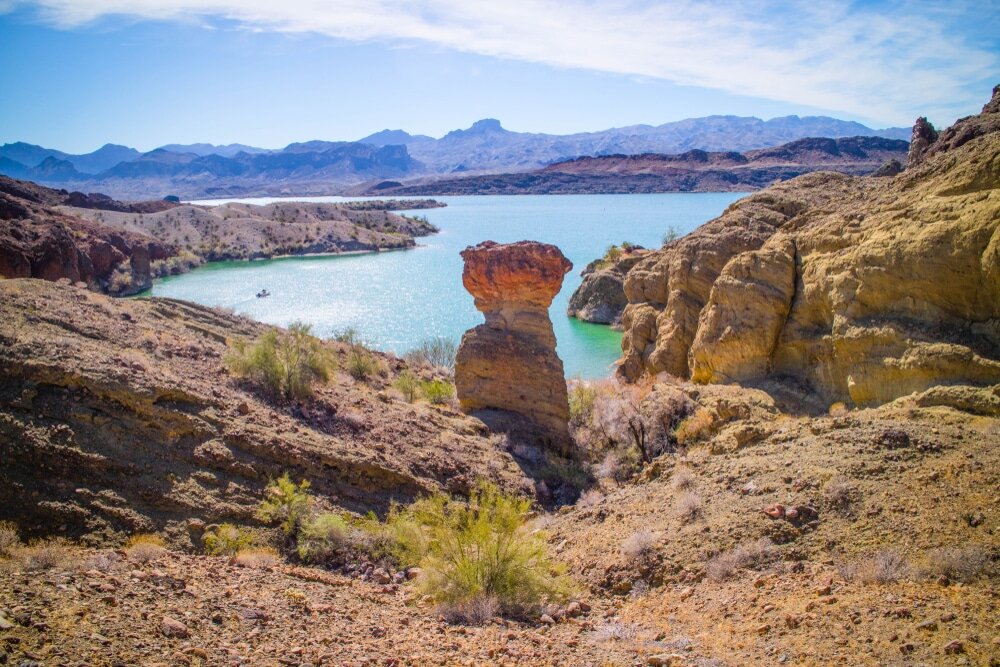 3. Canyon Lake
Canyon Lake is a convenient spot for SUP in Arizona especially if you are traveling by plane and land in the lively city. It is located in the Phoenix area.
The lake itself sits within the Tonto Nationa Forest and is part of the Salt River chain. There are over 28 miles of beautiful shorelines to explore!
For launch points, there is a convenient one located in the Canyon Lake Marina Campground. This spot is great for adventurers as it offers plenty of sites to camp for the weekend. Or for an extended stay!
In addition, there are three recreation sites to launch from which include Acacia Picnic Site, the Palo Verde Recreation Site, and the Boulder Creek Recreation Site.
All three give you fantastic access to the beautiful Canyon Lake and will make your trip easy and unforgettable.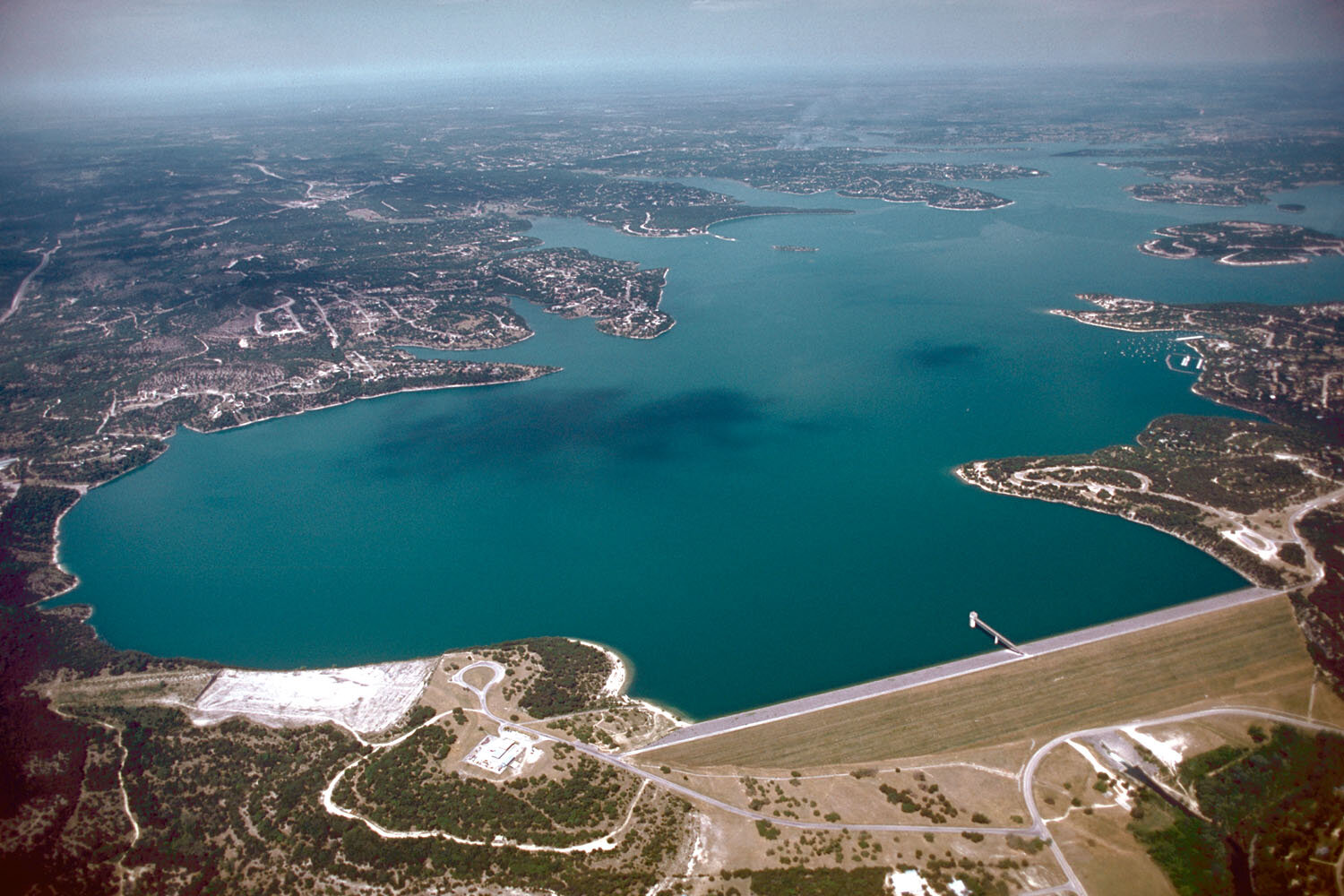 4. Lake Mohave
Our next stop for SUP in Arizona takes us westward once again but this time landing on the Nevada/Arizona border in Lake Mohave.
As the name suggests it is adjacent to the Mohave desert and is filled with spectacular views of the rugged landscape.
And that is the main reason for the suggestion to visit.
The crystal clear water bounces off the bright sandy desert walls making for a great place to explore and snap some amazing pictures.
There are plenty of places to camp- and we suggest that you do in order to take full advantage of the area.
These include Katherine Landing North Campground, Willow Beach Campground and RV, and Cottonwood Cove Campground.
Each has its unique locations but in the case of Willow Beach, you have a perfect launch point for your Atoll iSUP right outside your tent (or RV)!
Now is the perfect time to find some solitude in nature and at Lake Mohave, you have the opportunity to do just that.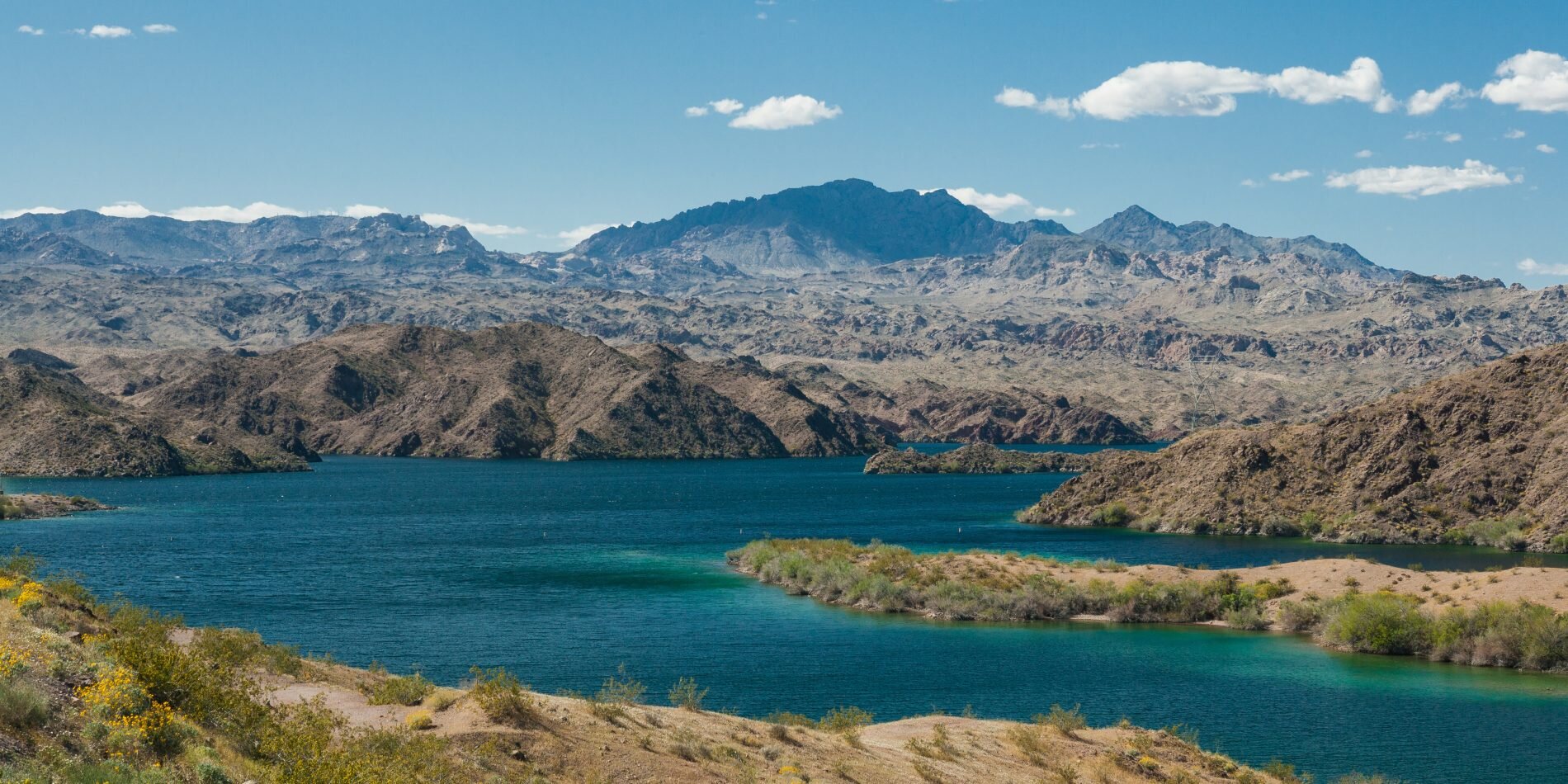 5. Grand Canyon National Park
Did we save the best for last when it comes to SUP in Arizona? You might say that.
But there is also a couple of additional reasons why we saved the Grand Canyon for last. You have to have experience and proper permits in order to paddle there.
If you don't have years' worth of paddling under your belt or the patience/time it takes to acquire permits to paddle there, we suggest heading to our other choices in Arizona first.
To obtain the correct permit you first must head HERE.
Before you even apply you first must be at least 18 years of age, have the required paddling experience, and enter a lottery which is only open for three weeks in February each year. Once it is closed you will be contacted through email with the results.
A Noncommercial Permit allows you to explore the mighty Colorado River for either 2-5 days or 12-25 days- choose wisely!
If you go the shorter route your launch point will be at Diamond Creek on the south rim of the canyon. If you're a regular adventurer and choose the extended stay, then you will be launching from Lees Ferry, which is located in the northern area of the Grand Canyon, close to the Utah border.
At this point, you may be asking yourself, "Why go through all this trouble?"
The short answer is because of the experience! You'll be one of the few people to paddle in the Colorado River with the Grand Canyon lurking overhead.
Directions to Grand Canyon National Park
Conclusion
There are so many places to paddle on our beautiful Mother Earth. But there are only a few that we believe are must-experience places. Arizona happens to be one of those.
The landscape is unlike any other you're likely to find in the United States. And the waterways which are surprisingly abundant are steeped in natural beauty and unforgettable sights.
So, like always, we suggest you get out there. Adventure on. See the sights of the world. SUP in Arizona. And of course, if you have any questions or need any guidance, we're here for you.