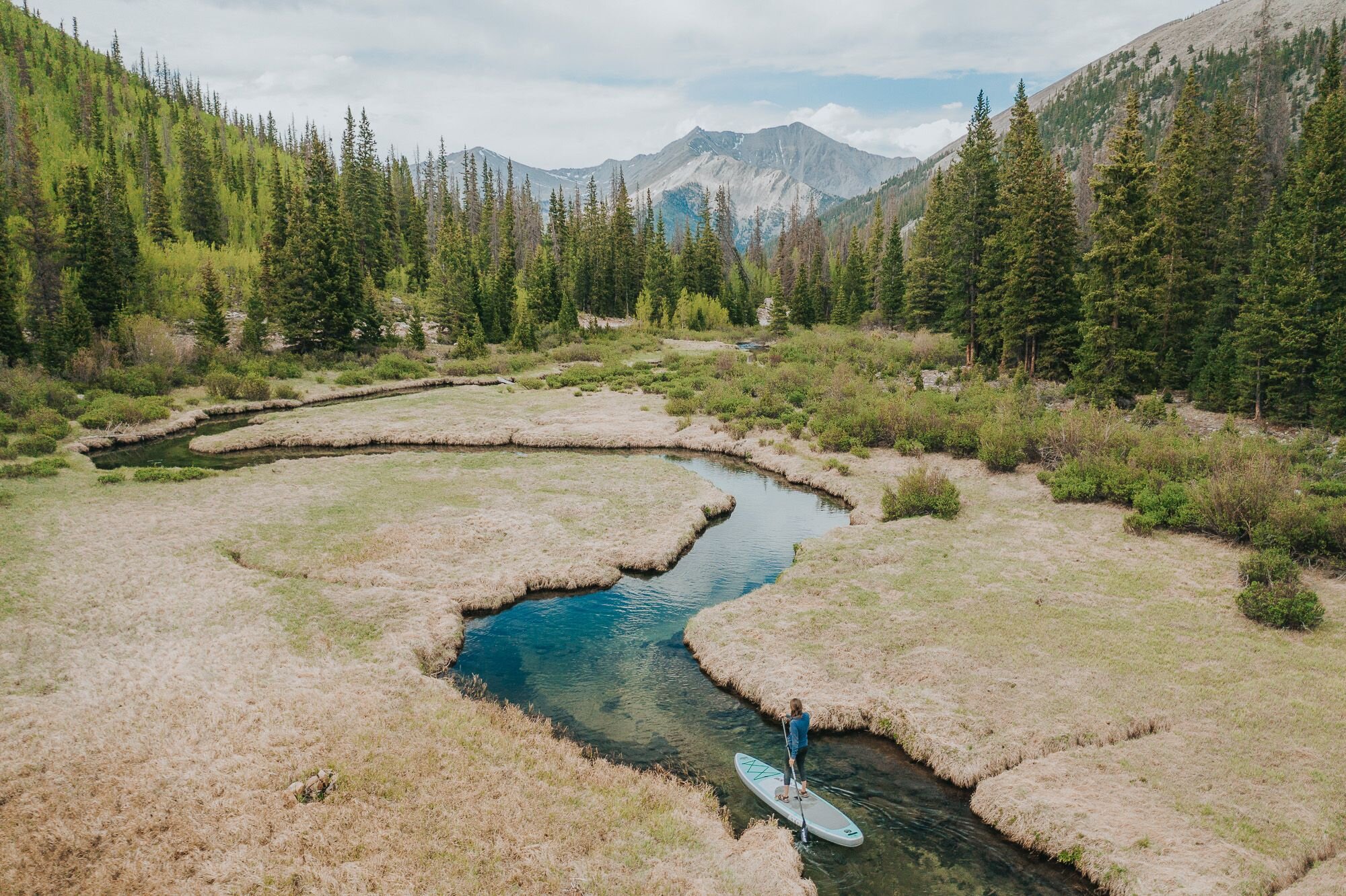 Searching for great holiday gift ideas? You might want to consider an iSUP. In fact, we provide 5 reasons why it might be the ultimate gift!
———————
It can be difficult to pick the perfect holiday gift. Usually, we settle for a small trinket, a kind gesture, or something that will be used a few times and cast aside with other ghosts of Christmas past. And we repeat this cycle of uncertainty and settle year after year.
But what if there was a gift that could inspire action in a person? One that could improve their health, be a gateway to making new friends, and could be used again and again for years to come?
Well, there are probably a few gifts out there that can accomplish these goals. But there is only one that we know does. And that is a brand-new Atoll iSUP.
Stand up paddle boarding can be the perfect gateway to expand a person's fun while also inspiring significant changes in their minds and their bodies. How? Let's explore…
These are five reasons why an iSUP is the perfect gift for the holidays
Brand-New Hobby
Instead of giving the same-old gift like a pair of warm socks (they're appreciated! But, time for some excitement this year) – by gifting an iSUP you have the ability to introduce a friend or loved one to a brand-new hobby. And why is that important? According to Psychology Today, hobbies help you structure your time, promote a state of flow, make you more interesting, reduce boredom, can increase your confidence and self-esteem, and they can help you cope with stress (source). So in reality, you're not just providing a new activity to master and enjoy, but an outlet for the stresses of daily life. This outlet will result in an increase of well-being and happiness. It's really a simple equation… iSUP + friend/family member = happiness Basically, you're giving people happiness. Isn't that awesome?!
Adventure/Experience
At first glance, gifting an iSUP may seem like you are giving something material. But that's just a first glance. With an iSUP you are also giving your friend or loved one the perfect vessel for new experiences and adventures. Having an iSUP is great for travel. They pack up nicely, can be checked in at the airport, inflated at drop-in points, and can lead you to explore the waters around your hometown or across the world.
There isn't much else that can provide this type of flexibility. Along with that, Joseph Goodman, an associate professor at Washington University who studies the effects of giving experiences as gifts explains, "Experiences are great and lead to happiness because they tend to be more unique and less comparable than material goods." Why not give both? With an Atoll iSUP you'll be giving the material possession of the board as well as the motivation to adventure into parts unknown.
Exercise
We all know exercise is essential. But why exactly? According to the Mayo Clinic, "Exercise delivers oxygen and nutrients to your tissues and helps your cardiovascular system work more efficiently. And when your heart and lung health improve, you have more energy to tackle daily activities." An object in motion stays in motion. This paradoxical idea explains the more you exercise the better you feel and the better you feel the more you'll exercise.
This year, stay away from the usual suspects of candy, soda, eggnog, and alcohol. Instead, give your friend or family member a way to improve themselves by using their Atoll iSUP on the water for their regular exercise! An added bonus is the ability to exercise outside away from the gym. Paddlers often don't even realize they are burning calories, increasing their strength, and toning their muscles because of the sensory experience of enjoying the water. They become so distracted by the beauty and the fun, that a workout is the last thing they think they're doing. It's time to try something new this year. Get outside and play instead of staying inside and forcing yourself on the treadmill.
Community
A vastly underrated bonus of SUP is the built-in community of other paddlers. Most activities increase in fun when they are done with others, SUP included. These days there are endless ways to connect. If you find a Facebook group, an Instagram page, or even just reach out to us and we can set you up with a paddling group willing to take you on the water, meet new friends, and enjoy a shared experience together. Human connection is an essential part of health, with a new iSUP you have the ability to expand your connection exponentially.
Easy Storage
The best part of owning an iSUP is the ease with which you can store it for an extended period of time. With a hardboard, you need space in your garage, basement, or a safe way to store it outside. It can become bulky, increase your chances of damaging the board, and become a pain to move around. An Atoll 11' board takes the pain of storage away. You can easily pack it into the included backpack and place it in your closet with ease.
Added bonus: Keep your purchase in the box and wrap it up! It will make for a fantastic surprise as the size or the shape of the board in the shipping box will never give it away! With this surprise and ease of storage, an Atoll iSUP is one of the best holiday gift ideas around.
Conclusion
We may be a bit biased. But we think an Atoll iSUP tops the list of perfect holiday gift ideas for any adventurer in your family. So, we say, be bold! Stray away from the usual Christmas or holiday gifts and give something that will be a fantastic surprise. It will also add to your loved ones life in ways they you may have never thought. And of course, if you have questions or need any buying advice, be sure to contact us HERE. We will get back to you as quickly as possible. Happy holidays everyone!