In this article we discuss the 5 best SUP accessories you need to take your experience on the water to the next level!
———————
Purchasing your first board is a major excitement. You're instantly hit with the fact that you will be receiving a brand-new toy (which is a big deal if you're an adult) but also one that will provide you with a new experience and keep you fit while you're doing it.
There are too many positives to count.
But as we have seen before while buying the board is a major step towards a ton of fun, you're purchases aren't complete until you have the correct accessories to complement the board.
We know what you're thinking…
"I just spent a good amount of money on a board, now you want me to buy upgraded accessories?!"
Well…
It isn't completely necessary but…yes.
If you're still skeptical, let's go over why you need these top 5 accessories to make your time on the water with your Atoll iSUP even more enjoyable.
Why is an electric pump number one on our list of best SUP accessories?
If you've already blown up your board a few times, you may already know. If not, it's because the act of pumping up a board can be a workout in itself!
Which can work for you if you're in the mindset of stacking workouts to achieve ultimate fitness. If that's your thing, bravo! We aren't here to slow you down.
However, for those paddlers who want to preserve their energy for fun times on the water, an electric pump does wonders.
Inflate your board from the comfort of your car seat in as little as 5 minutes with the Outdoor Master Electric iSUP Pump.
Durable, reliable, and able to be used on a variety of boards outside of the Atoll lineup, you'll be thankful you purchased one especially if you have multiple boards!
The digital sensor makes it easy for anyone to see where your board's PSI level is to avoid under and over inflation.
And it can also be used for deflation purposes to make sure every last bit of air is out of the board before rolling it back up.
While this exceptional tool isn't exactly necessary to enjoy your Atoll board, it can go a long way in making your time on the water more enjoyable.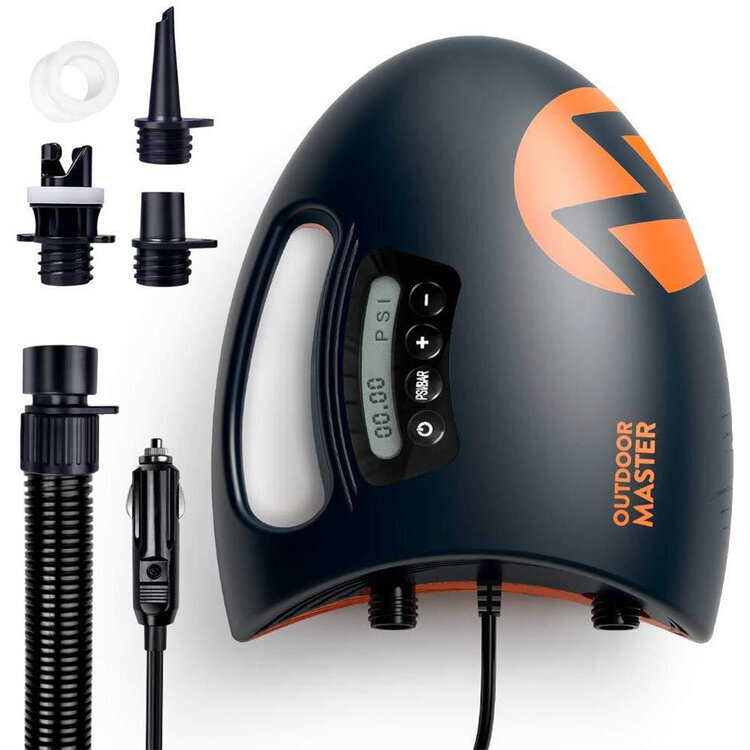 First, we want to say the standard paddle you receive with your Atoll board is one of the best beginner paddles you will find on the market. And it could have easily been included on our list of best SUP accessories.
The nylon blade is durable, the shaft is light, and the touch of carbon through the handle and the adjustable portion of the paddle is often not included in other brand's fully aluminum varities.
If you have a standard paddle, there is no urgent need to upgrade.
But you know what they say…
Once you go carbon…
You'll be forever desperate to own your own.
That's a saying, right?
Well, it should be. Fully carbon fiber paddles are light. On the surface that might not seem like a big deal. But if you're paddling miles at a time, adventuring through unknown territory and being the overall badass that you are, you don't want to be slowed down by anything.
We get it.
And with our fully carbon fiber paddle, the tool you use every time you're out there to propel yourself through the water, you won't be.
How do we know? Because it only weighs 24 ounces!
Making it the lightest and most durable paddle Atoll produces. If you don't believe that there is a major difference between a stock paddle and carbon fiber, please, do yourself a favor and try one the next time you're on the water.
It's like we said…
Once you go carbon…
You can't go back.
(That sounds better)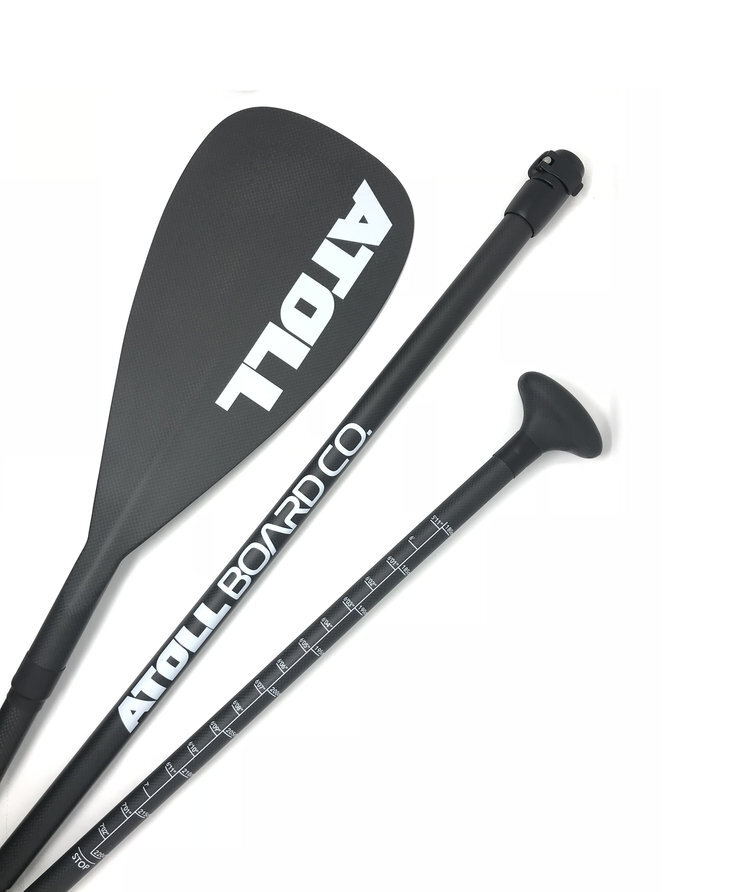 A PFD is a must on any best SUP accessories list. It's always good to add a layer of protection on the water. But most PFD's, especially vests, are incredibly bulky, hot, and make paddling miserable.
That is why the good people at Onyx decided to make a waist-blet PFD that inflates by pulling the string tab.
It sleekly sits on your waist while your paddling, never getting in your way, and is there for you to inflate if you ever have the need or get into any danger.
Plus, some places require a paddler to have a PFD by law so having one with you that works well with paddling a SUP is a must!
Safety should always be your number one priority on the water, and with an Onyx PFD belt, you're covered.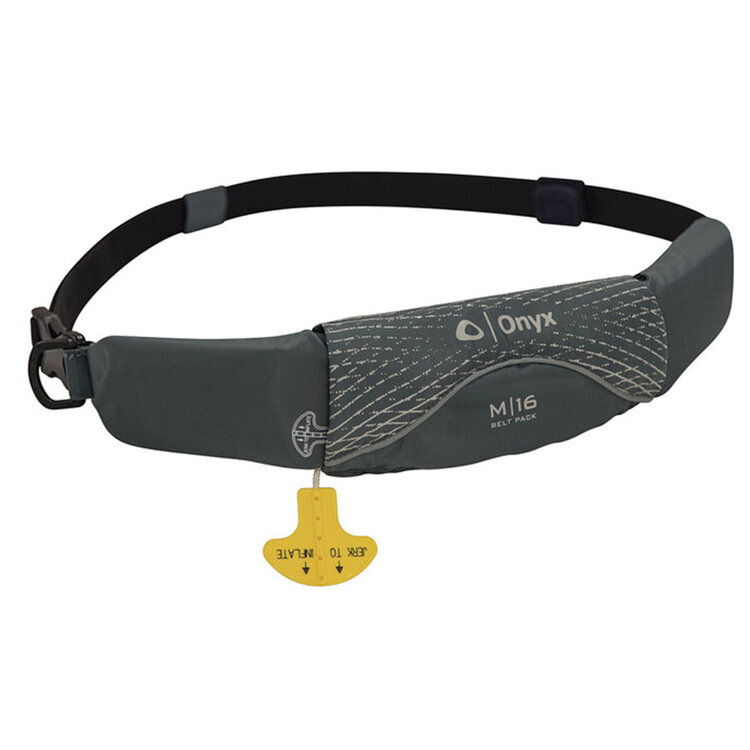 Remember a long time ago, that time we said safety should always be your number one priority? Come on, we know it may have been a while ago but think, thiiiiiink.
We're kidding. We just said it!
And with a brand-new coil leash you're adding another level of safety to your time on the water.
How?
Well, consider that your Atoll iSUP is your primary flotation device on the water. It's even better than a PFD because it can float your entire body out of danger.
And the best way to always make sure your primary flotation device never drifts farther than an arms length away is with a coil leash!
If you do happen to fall in and find yourself in a tricky situation, just grab the leash strapped to your ankle and start reeling in your board. Once safely atop, you'll be able to reassess your situation.
But why a coil leash?
The coiled section of the leash stays on top of your board, reducing drag in the water behind you that will occur with a straight leash. And if you find yourself in a river or lake with rocks or tree branches about, you won't be snagged on one like you would with a straight leash dragging behind you in the water.
Out of this entire list, besides a PFD, the coil leash should be one of your "must-haves" for water safety and an important addition to any list of best SUP accessories.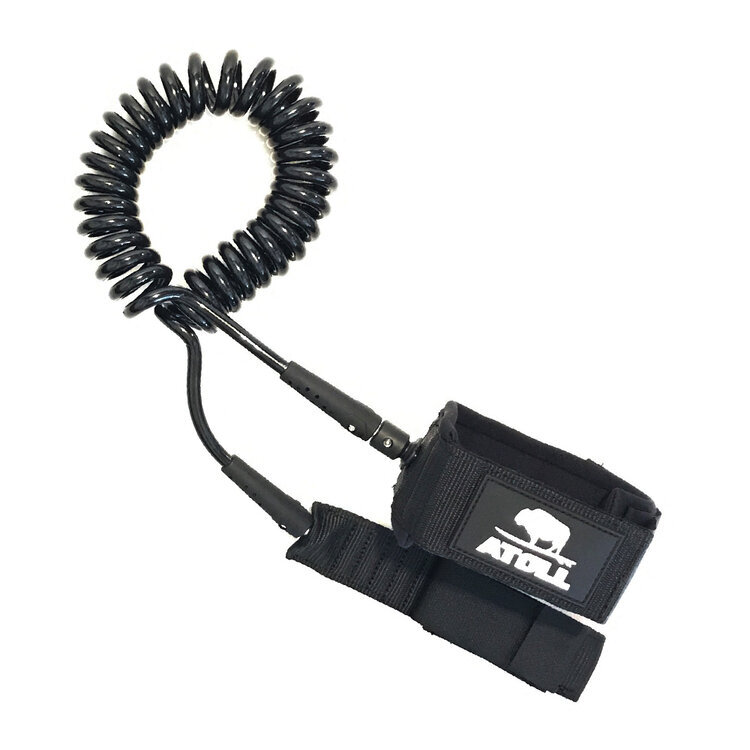 We get it…
You're cocky. You don't need a cell phone case. Instead, you'll just carry it in your pocket where it will stay dry and intact forever because you will never fall in.
We know your type. And we've also seen plenty of your type get humbled a time or two. Why not instead cover your bases and your phone with a Geckobrands Floating Waterproof case?!
They are fully waterproof which means your phone will stay dry even if you take a dunk and for the off occasion where you drop your phone in the water, the case will float, allowing you to scoop it up and save the day in no time.
But why take a phone in the first place? For safety reasons primarily. You'll be able to contact your friends, family, or the authorities if something were to happen. And of course the real reason-
Pictures!
SUP and pictures have become a synonymous activity these days with some of the best nature shots coming out of the SUP community.
Don't be afraid to snap some pics from the safety of your waterproof case and make your friends jealous. We mean, make your friends want to join you next time. That's a nicer way of saying it. We'll stick to nicer from now on.
But with a Geckobrands case, you now have the complete list of best SUP accessories to improve your time on the water!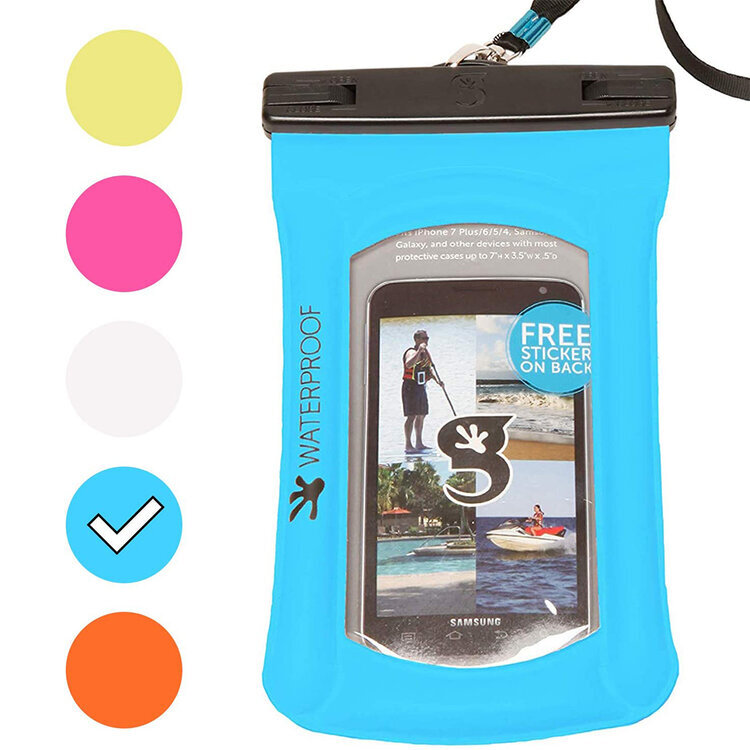 Conclusion
These accessories of course are not entirely necessary to enjoy your Atoll iSUP. But they do elevate it. And the best part is they're all available on our website for you to purchase at any time. However, for some of them, don't wait until it is too late! If you have any questions or need advice or even help to decide what to buy, you can always contact us HERE and we'll get back to you as soon as possible. As always Atoll Family, we'll see you on the water!